Build Discipline And Physical Fitness In Your Child With Our Kids Martial Arts Classes
At Champions Karate, we take pride in helping students all across our community stay active and lead healthy lives with the help of our high-energy Kids Martial Arts Classes. We train boys and girls of all ages and experience levels, helping students learn the best combination of traditional Karate and Hapkido techniques.
Give your child the best chance to build confidence and develop lifelong habits of physical activity. Just fill out the short form on your screen to get started or to learn more about everything we have to offer in Monrovia.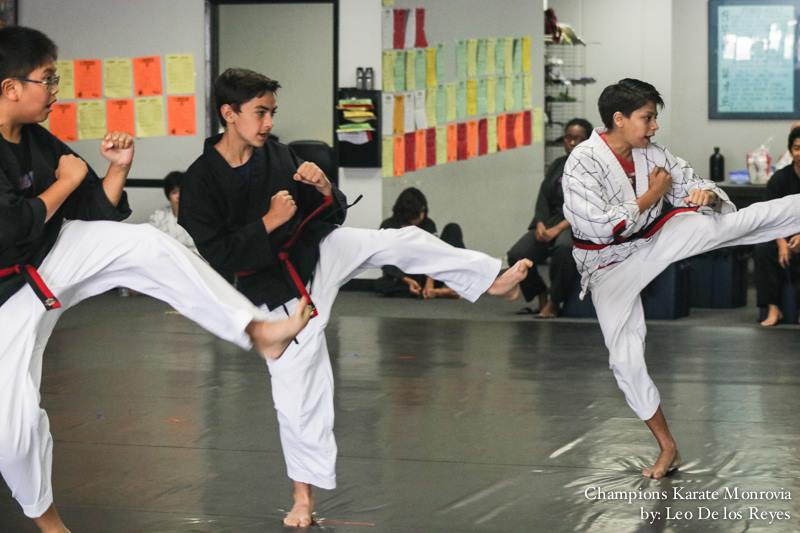 Why Is Our Kids Martial Arts Training The Best In All Of Monrovia?
Because we know that children learn in different ways. They each have different interests and different skill sets. At Champions Karate our team of instructors relies on varied teaching methods to meet the needs of every child in our program.
We work hard to build an individualized relationship with each student in our program and we go above and beyond to make sure every child has the chance to thrive.
Our Kids Martial Arts Classes in Monrovia include two distinct training programs, including the Little Ninjas Class (Ages 3-4) and our award-winning Youth Karate Classes (Ages 5 and up).
In no time your child can learn:
Hands-on self-defense and striking instruction
Goal setting and motivation to improve every day
Training for improved strength, balance, and coordination
Well-rounded athleticism that can carry over into any sport or hobby
PLUS, Our Kids Martial Arts Classes Make Character Development A Priority Every Single Day!
Our classes offer students all across the community a great chance to learn martial arts techniques and challenge their bodies in every session. But we also aim to develop our students into young adults who are prepared for all aspects of life.
We do that by surrounding them with great role models and a support system that sets them up for success. Our belt progression system offers challenges and the opportunity for accomplishments every step of the way.
With our Kids Martial Arts Classes At Champions Karate, your child can:
Build self-confidence in all aspects of life
Learn respect and discipline in everything they do
Develop leadership and teamwork skills
Persevere through anything life throws their way
Sign Up Today For The Best Kids Martial Arts Classes In Monrovia!
If you're ready to give your child a fun new hobby and a great way to challenge their bodies and their minds at the same time, come see us at Champions Karate in Monrovia today!
Our Kids Martial Arts Classes are great for students of all ages and experience levels. Just fill out the short form on your screen to get started today!