Learn Effective Self-Defense Skills For Any Situation
Hapkido is truly one of the most effective self-defense skills known to man. It can help you stay safe in any situation by teaching you how to redirect an opponent's energy into a controlled defense strategy.
At Champions Karate, our Sef-Defense program is built around the style and we're excited to share it with everyone in Monrovia.
Just fill out the short form on your screen to come see it for yourself!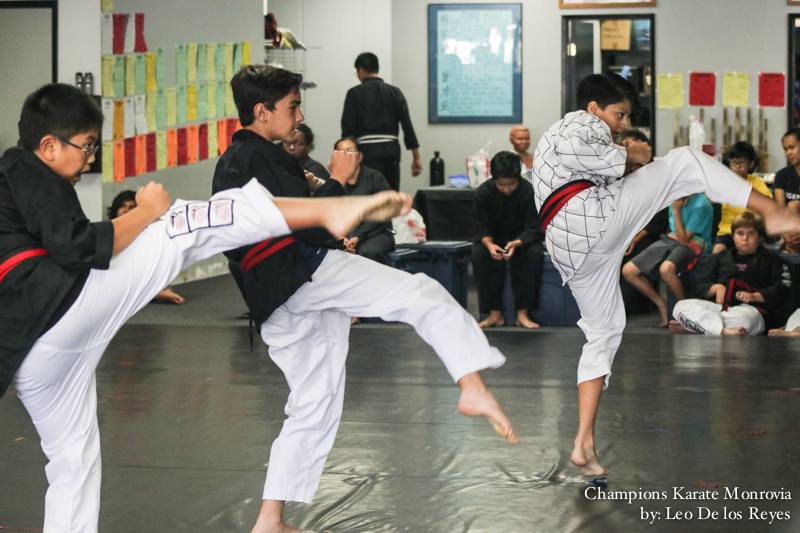 Why Is Our Self-Defense Training Right For You?
Nobody wants to need self-defense skills. It's scary to think about being caught in a situation of real-world violence.
But it's better to be prepared than to be caught off guard.
Our Self-Defense Classes at Champions Karate can help you learn the art of Hapkido one step at a time. We focus on the real-world applications of kicking, striking, and joint manipulations. You'll quickly learn how to maintain balance and control in any position.
We're equipping men and women across Monrovia with:
Powerful kicking and close-range striking skills
Effective timing and self-defense strategies
Empty hand and weapons defenses
Pressure point attacks and submission strategies
Our Self-Defense Classes In Monrovia Offer The Most Comprehensive Hapkido Instruction Around
Unlike a lot of brute force defense systems, Hapkido requires additional nuance and strategy beyond just indiscriminate striking. That's why our Self-Defense training at Champions Karate is introducing men and women across Monrovia to the guiding principles of the style.
The Core Principle: Gain momentum from an opponent by moving in a natural manner to redirect the attack.
The Water Principle: Maintain a fluid nature and defend with more than physical force. Flow with, over, and under an attacker to find the path of least resistance.
The Power Principle: The act of non-resistance, this principle teaches practitioners not to muscle their way through every encounter.
Take The First Step! Learn The Best Self-Defense In Monrovia!
Don't miss out on everything we have to offer at Champions Karate in Monrovia. Our Self-Defense system is second-to-none and we're proud to offer it to everyday men and women all across our community.
Just fill out the short form on your screen to learn more or to get started now!